---
An inclusive congregation committed to Christian worship and service to the community, St. John's is a vibrant and diverse group of people of all ages, races, abilities, and identities, engaged in anti-racism and other transformative work. We offer three Sunday services, religious instruction for children, and adult and youth choirs. In addition to our annual Darwin Day celebration of science and religion, St. John's offers a free series of concerts, sponsors a refugee family, is involved in a partnership with Hands to Help Ministries, which serves the local homeless population, and is the drop-off site for Genesis Growers, a Community Supported Agriculture organic farm. Established in 1883 in Old Irving Park, the church is located on Chicago's northwest side, on the corner of Byron and Kostner.
---
Our Staff
The Reverend Kara Wagner Sherer, Rector 
Kara Wagner Sherer is a cradle Episcopalian raised in the small congregation of St. James in Marshall, Minnesota. She has a B.A. in English Literature from St. Olaf College in Minnesota (1991) and earned her M.Div. from Seabury-Western Theological Seminary in 2003. During the years between St. Olaf and Seabury, she taught elementary school in England, New York, and Chicago and also served as Campus Minister at Sacred Heart Schools in Chicago. Kara came to us from St. Paul & the Redeemer in Hyde Park where she was the Assistant Rector from 2003 – 2005.
---
Lisa Kra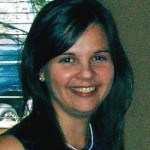 ppman, Parish Administrator
Lisa Krappman is a graphic designer with extensive experience in the field of marketing communications. During her career, she has produced a broad range of corporate communications, identities, annual reports, advertisements and packaging for Fortune 100 companies to non-for-profit organizations. She holds a BA in Graphic Design from the University of Illinois, Champaign-Urbana. Lisa is married and has a son in elementary school. They are members of Queen of Angels Roman Catholic Church.
Brenda Lotesta, Deacon Intern
Brenda is a cradle Episcopalian, and a member at Trinity Wheaton, for the past 25 years. Brenda has participated in many ministries including, children's formation, acolyte, eucharistic minister, eucharistic visitor, nursing home ministry, congregational development programs, and more. Brenda was granted postulancy in April of 2018. She completed her field internship at St Barnaba's, Glenn Ellyn, in Feb 2020 and recently assigned to St. John's in Chicago to work on antiracism completing her formation requirements. Brenda and her husband, Rich, live in Wheaton, IL. They have three girls, two sons-in-law, AND four beautiful grandchildren, including a new girl born July 26, 2020.
Dee Murphy
, Choir Director 
Dee Murphy directs the St. John's Choir and Children's Choir. In addition, Dee teaches K-8 Vocal and General Music at Hawthorne Scholastic Academy in Lakeview. She directs the extra-curricular singing groups and assists in the instrumental program at this Chicago Public Elementary School. Ms. Murphy earned a Bachelor of Science degree in Music Education from the University of Illinois Champaign-Urbana, and a Bachelor of Arts degree in Vocal Performance from Simpson College in Iowa, and a Master's Degree in Vocal Pedagogy from Northeastern Illinois University, where she studied with Phyllis Hurt. Upon returning to Chicago from New York City, with her family, including 2-year old Emma, Dee joined the choir as an alto, and has been affiliated with the music at St. John's ever since. Emma grew up at St. John's and returns to church when she is in town from college. She is a Theater Performance major at Bradley University. Mother and daughter enjoy singing together, being with their extended family, going on road trips, and attending plays and musicals.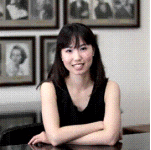 Mio Nakamura, Organist
Mio Nakamura earned B.M. and M.M. degrees in piano performance with honors at Chicago College of Performing Arts of Roosevelt University. She has performed at the PianoForte Salon Series on WFMT, the Musicians Club of Women Artists in Recital Series, and with the Northwest Symphony Orchestra, the Evanston Symphony Orchestra, and the Symphony of Oak Park and River Forest. Ms. Nakamura is on the faculty at Music Institute of Chicago. She frequently appears as a keyboardist with the Chicago Symphony Orchestra.
Grizelda and Ernesto Raygoza, Sextons
Ernesto and Griselda have been married 25 years and have three children, Monique, River, and Savanah. They moved back home to Chicago in 2014 after living in Texas for 13 years where Ernesto was a helicopter mechanic. Ernesto currently works for Crafty as a technician. Griselda works for The Law Offices of Ronnie S. Zanayed in Albany Park as a paralegal in family, criminal and real estate law. Fun fact: every weekend, no matter rain, snow or shine, they travel throughout the city in search of the best tacos!
---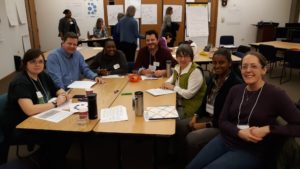 The vestry of St. John's, along with the Rector, are the leaders of the church who discern, articulate, and direct the vision of our community. They care for the spiritual life of the parish, including pastoral care and Christian formation. They guide the work of evangelism and outreach to our community and world. They are responsible for assets of the church, maintaining financial health and the buildings and grounds. Members are elected in January to 3 year terms, and can serve two consecutive terms. The dates listed are the year they finish their terms.
Tom Irvine, Senior Warden (President), 2021
Bettina Daszczuk, Junior Warden (Vice-President), 2020
Brian Hosking, Treasurer (Ex-Officio)
Sarah Royston, Clerk (Secretary), 2023
Juanita Raman, 2023
Khara Gonzales, 2021
Alex Menocal, 2021
Erica Zazo, 2021
Teresa Ferris, 2022
Chris Horlacher, 2022
Mike Underhill, 2022
---
We are part of the Diocese of Chicago, the Episcopal Church, and the Anglican Communion. Click on the logos to visit those websites.