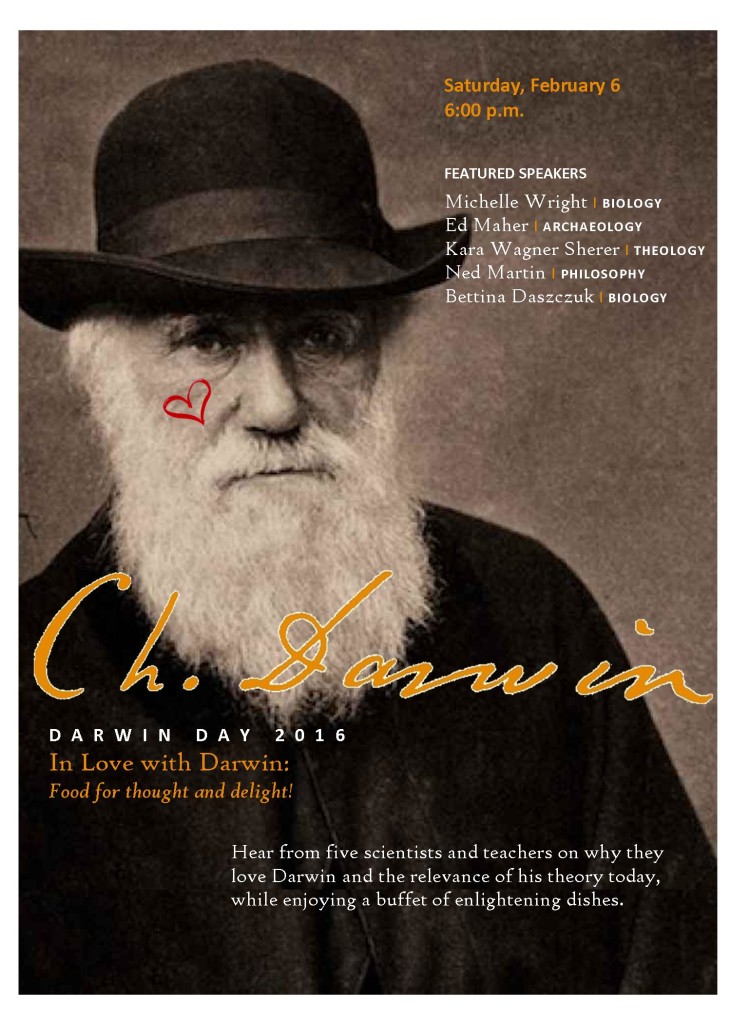 Back by popular demand! Don't miss this annual celebration of Darwin Day. This year St. John's Episcopal Church presents In Love with Darwin: Food for thought and delight! Hear from five scientists and teachers on why they love Darwin and the relevance of his theory today, while enjoying a buffet of enlightening dishes. Featured Speakers are: Michelle Wright, Biology, speaking on new discoveries in medical research; Ed Maher, Anthropology, on the debates around cultural evolution;  Kara Wagner Sherer, Theology, on whether science compliments or competes with religious thought; Ned Martin, Philosophy, on the debate over the evolution of altruism; Bettina Daszczuk, Biology, on the research into a "gay" gene. The discussion will be moderated and guests will have an opportunity to ask questions. On the menu: Primordial Soup, Salad with Galapagos Island dressing, Origin of the Spaghetti, Thymine & Thyme Toast, CRISP(R) Dessert and Base Pears. The dinner is free, cash bar and donations support programs at St. John's. The event is free and open to the public.
About The International Darwin Day
Darwin Day is an international celebration of science and humanity held on or around February 12, the day that Charles Darwin was born on in 1809. Specifically, it celebrates the discoveries and life of Charles Darwin — the man who first described biological evolution via natural selection with scientific rigor. More generally, Darwin Day expresses gratitude for the enormous benefits that scientific knowledge, acquired through human curiosity and ingenuity, has contributed to the advancement of humanity.
The International Darwin Day Foundation website www.darwinday.org provides resources and publicity for individuals and institutions across the world to celebrate science and humanity every year, on, or near, February 12, Darwin's birthday. In addition to information about the life and legacy of Charles Darwin, this website provides practical examples, advice and templates for organizing and publicizing Darwin Day events. It also provides a directory of events where you can find celebrations taking place near you or register your own event for others to find.
Recognizing science as an international language accessible to all individuals and societies, the International Darwin Day Foundation provides a new global holiday that transcends separate nationalities and cultures. Darwin Day can be celebrated in many different ways: civic ceremonies with official proclamations, educational symposia, birthday parties, art shows, book discussions, lobby days, games, protests, and dinner parties. Organizers may include: academic societies, science organizations, freethought groups, religious congregations, libraries, museums, galleries, teachers and students, families and friends. In Darwin Day, we are able to recognize the diversity among us, while celebrating our common humanity and the universal understanding we share.