Christians are called to participate in the kingdom of God by working for peace, justice and the common good. These organizations act politically, motivated by faith. Get involved!
The Episcopal Public Policy Network (part of The Episcopal Church Office of Government Relations located in Washington, DC) is a grassroots network of Episcopalians across the country dedicated to carrying out the Baptismal Covenant call to "strive for justice and peace" through the active ministry of public policy advocacy. advocacy.episcopalchurch.org

Believe Outloud works for lesbian, gay, bisexual and transgender equality in our families, our churches and our communities. believeoutloud.com
Faith in Public Life advances faith as a powerful force for justice, compassion and the common good. faithinpubliclife.org
All Our Children is a national network of people of faith who are exploring, forming, and leading community partnerships between congregations and public schools. Through these partnerships, AOC is part of a growing movement to create meaningful improvements in the quality and equity of public education. allourchildren.org
Faithful America: Love thy neighbor. No exceptions. faithfulamerica.org
Interfaith Power & Light is a religious response to global warming. interfaithpowerandlight.org
Groundswell inspires faithful action to heal and repair the world. Powered by Auburn Theological Seminary. action.groundswell-mvmt.org
Click here for a pdf of this poster: How to become an Episcopalian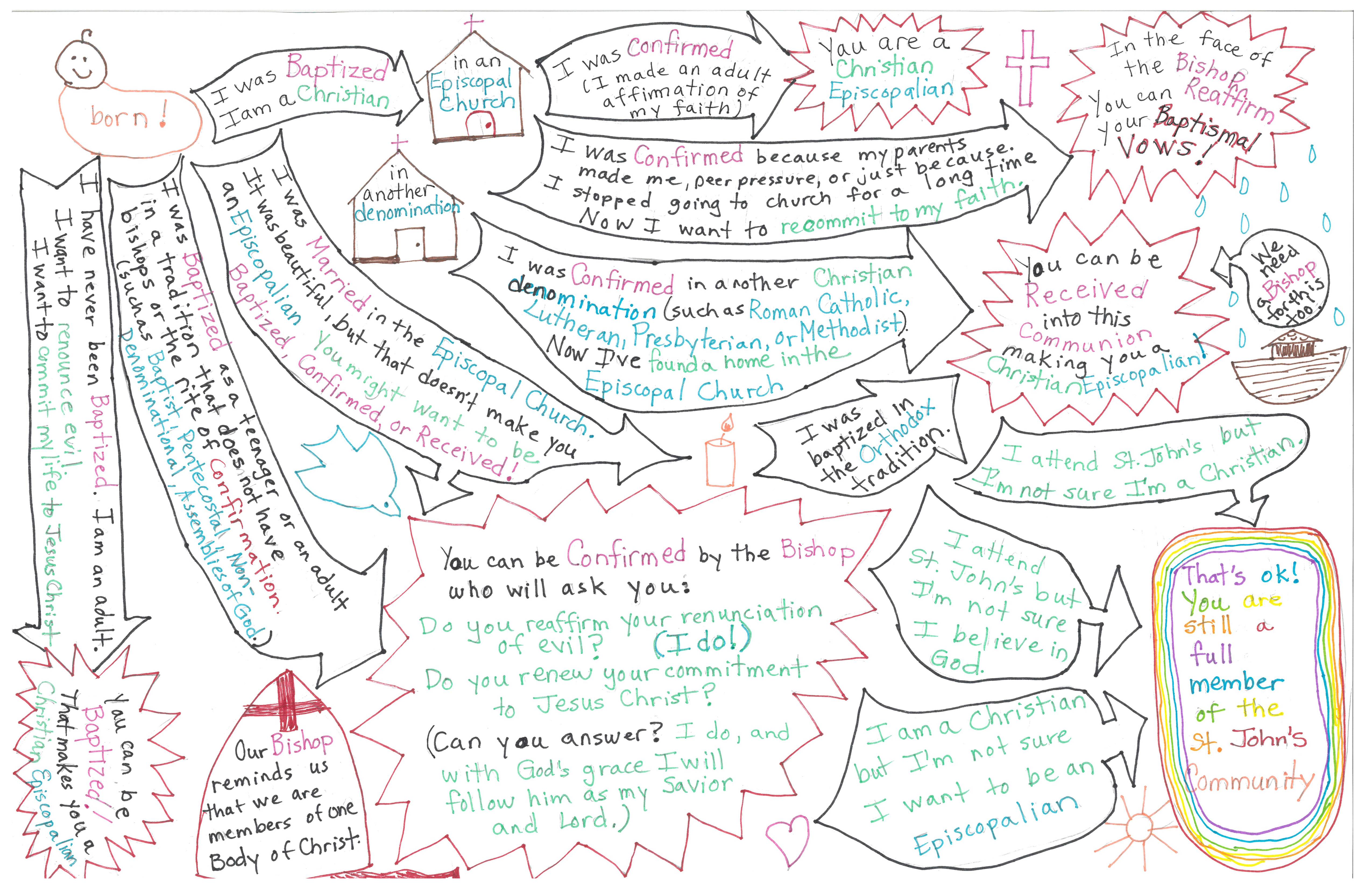 Refresh your Spirit
Begin again with the ancient practice of Lent
Ash Wednesday is March 1.
Ashes will be distributed at the Irving Park Metra and Irving Park Blue line stops between 6:30 and 8:30 a.m.
Worship with the distribution of Ashes at St. John's at 12:00 and 7:30 p.m in the sanctuary.
All are welcome.
Don't miss this annual international celebration of Charles Darwin!
On Saturday, February 11 we welcome the Rt. Rev. Katharine Jefferts Schori, past Presiding Bishop of The Episcopal Church, to speak on the topic "Science and Faith a Bishop/Biologist Embraces Both." The evening will begin at 6:00 p.m. with primordial soup and a selection of songs celebrating science. A lecture and curated discussion will follow. 
The Rt. Rev. Katharine Jefferts Schori is the former Presiding Bishop of The Episcopal Church. She was the first woman elected as a primate in the Anglican Communion. Katharine holds a B.S. in biology from Stanford University, an M.S. and Ph.D. in oceanography from Oregon State University, an M.Div. from Church Divinity School of the Pacific, and several honorary doctoral degrees. She is also an active, instrument-rated pilot.