---
A small Sunday School begun in 1883 in the Old Irving Park neighborhood has become the parish of St. John's Episcopal Church, a neighborhood congregation committed to worship and service. St. John's is a diverse congregation made up of people of all ages, races, abilities, and sexual orientation.
Throughout its history, St. John's has been involved in reaching out to the community and has been most known for a free home-cooked Thanksgiving meal served every year since the 1980s.
Currently, the community of St. John's is involved in a partnership with the Diocese of Southeast Mexico, Hands to Help Ministries, which serves the local homeless population, and activities and events to strengthen ties between neighbors. The newly formed Genesis Group acts on issues of sustainability in our homes, church and in the community.
---
Our Staff
The Reverend Kara Wagner Sherer, Rector 
Kara Wagner Sherer is a cradle Episcopalian raised in the small congregation of St. James in Marshall, Minnesota. She has a B.A. in English Literature from St. Olaf College in Minnesota (1991) and earned her M.Div. from Seabury-Western Theological Seminary in 2003. During the years between St. Olaf and Seabury, she taught elementary school in England, New York, and Chicago and also served as Campus Minister at Sacred Heart Schools in Chicago. Kara came to us from St. Paul & the Redeemer in Hyde Park where she was the Assistant Rector from 2003 – 2005.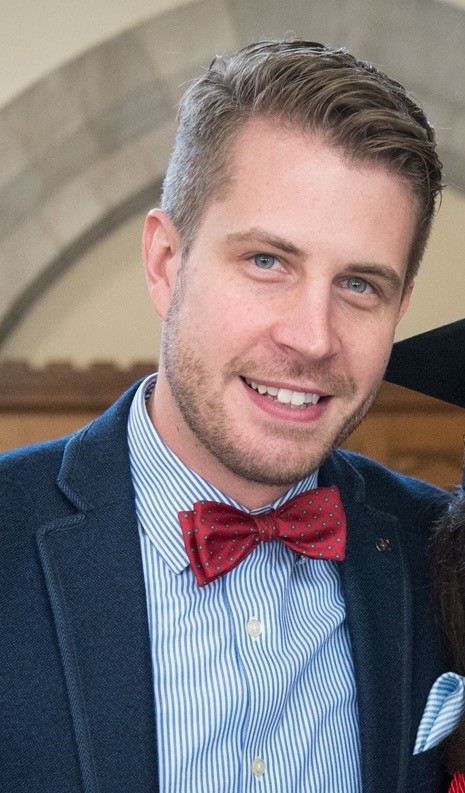 Michael Van Oeveren,  Seminarian
Michael is a postulant for the priesthood in the Diocese of Chicago, and delighted to be joining St John's as a ministry intern. He graduated from Garrett-Evangelical Theological Seminary in 2010 with a Master of Divinity degree. Since graduation Michael has worked full time as a chaplain in hospice and palliative care, initially with Midwest Care Center, and now with a merged group called JourneyCare. He has a passion for outreach especially to those who find themselves on the margins of society. In 2014 he began to work with the Night Ministry as a homeless outreach minister. Michael loves traveling, exploring the city, comedy, theater, and mindless drives along Lake Shore Drive.
Lisa Kra
ppman, Parish Administrator
Lisa Krappman is a graphic designer with extensive experience in the field of marketing communications. During her career, she has produced a broad range of corporate communications, identities, annual reports, advertisements and packaging for Fortune 100 companies to non-for-profit organizations. She holds a BA in Graphic Design from the University of Illinois, Champaign-Urbana. Lisa is married and has a son in elementary school. They are members of Queen of Angels Roman Catholic Church.
Dee Murphy directs the St. John's Choir of adults. In addition, Dee teaches K-8 Vocal and General Music at Hawthorne Scholastic Academy in Lakeview. She directs the extra-curricular singing groups and assists in the instrumental program at this Chicago Public Elementary School. Ms. Murphy earned a Bachelor of Science degree in Music Education from the University of Illinois Champaign-Urbana, and a Bachelor of Arts degree in Vocal Performance from Simpson College in Iowa, and a Master's Degree in Vocal Pedagogy from Northeastern Illinois University, where she studied with Phyllis Hurt. Upon returning to Chicago from New York City, with her family, including 2-year old Emma, Dee joined the choir as an alto, and has been affiliated with the music at St. John's ever since. Emma grew up at St. John's and returns to church when she is in town from college. She is a Theater Performance major at Bradley University. Mother and daughter enjoy singing together, being with their extended family, going on road trips, and attending plays and musicals.
Mio Nakamura, Organist
Mio Nakamura earned B.M. and M.M. degrees in piano performance with honors at Chicago College of Performing Arts of Roosevelt University. She has performed at the PianoForte Salon Series on WFMT, the Musicians Club of Women Artists in Recital Series, and with the Northwest Symphony Orchestra, the Evanston Symphony Orchestra, and the Symphony of Oak Park and River Forest. Ms. Nakamura is on the faculty at Music Institute of Chicago. She frequently appears as a keyboardist with the Chicago Symphony Orchestra.
Lieve Buzard, Children's Choir Director
Lieve formerly served as a staff soprano at St. Bartholomew's Episcopal church, where she was a frequent soloist in their concert series. Lieve is passionate about teaching voice and is currently working towards a Masters in vocal pedagogy at Westminster Choir College. Lieve also volunteers as a proctor at the Royal School of Church Music Charlotte summer course. While her first love is sacred music, Lieve's operatic roles include Echo in Ariadne auf Naxos, Barbarina in Le Nozze di Figaro, and Emmie in Albert Herring. Lieve earned her Bachelors degree from Princeton University, where she studied choral conducting under the tutelage of former King's Singer Gabriel Crouch. She is married to Stephen Buzard, who serves as Director of Music at St. James Cathedral.
Karl Kuhn, Sexton
Karl is the owner and manager of Showboat Painting. In his spare time he makes sure everything is clean, working, and in good order at St. John's, the Rectory, and in the garden. A former history and religion teacher, Karl enjoys telling stories and visiting (and eating in!) his native city of New Orleans.
---
The vestry of St. John's, along with the Rector, are the leaders of the church who discern, articulate, and direct the vision of our community. They care for the spiritual life of the parish, including pastoral care and Christian formation. They guide the work of evangelism and outreach to our community and world. They are responsible for assets of the church, maintaining financial health and the buildings and grounds. Members are elected in January to 3 year terms, and can serve two consecutive terms. The dates listed are the year they finish their terms.
Tom Irvine, Senior Warden (President), 2019
Patrick Palsgrove, Junior Warden (Vice-President), 2018
Brian Hosking, Treasurer (Ex-Officio)
Sue Boeman, Clerk (Secretary), 2020
Bettina Daszczuk, 2020
Lola Ekezie, 2020
Marlon Jacobs, 2019
Kathy Broderick, 2019
Nancy Little, 2019
Ruth Edwards, 2018
Leanne Gehrig, 2018
Pat Dwyer, 2018
---
We are part of the Diocese of Chicago, the Episcopal Church, and the Anglican Communion. Click on the logos to visit those websites.