Featured post
Save a tree! You can download this pdf of our Sunday bulletins and follow along on your phone or tablet!
Featured post
July 9, 2016
Dear People of St. John's,
This has been a difficult and troubling week in our nation. Tomorrow we will gather, as we do every Sunday, to praise and thank God for our lives, and to pray.
Recently there have been calls to stop praying because prayer has been seen as empty sympathy or an avoidance of reality and the need to act.
I believe our prayers are important because as Christians we pray for the victims and the perpetrators. We pray for the innocent and the guilty. We pray for families and friends of victims and perpetrators. We pray for those who uphold the law, those who break the law, and those charged to make and enforce our laws. We pray for ourselves, others, and our whole nation. The act of prayer is a political statement; we claim that God is more powerful than us, more powerful than our earthly rulers, more powerful than evil, more powerful than death.
I believe that prayer is important because prayer changes us. Rarely does prayer change reality (miracles do that). Prayer forces us to speak the reality, to open a pathway for God to speak to us, to change our hearts, and to guide us into action.
We will pray on Sunday, and then what?
We at St. John's can do something about violence, about racism, about the state of our laws and those we choose to govern us. Let us pray for guidance, and then let us work for change. Let us work to prove to the world that death and fear do not have the last word.

I pray that you are not overwhelmed by hopelessness and fear. Let us decide what we are called to do and we will do it.
Prayers and blessings,

Kara +
A message from our Bishop and our Presiding Bishop are below:
Living in a Time of Convulsive Violence:  A Letter from Bishop Lee
Featured post
Featured post
Featured post
Beginning on May 29 and throughout the summer we have two worship services, at 8:00 a.m. and 10:00 a.m. Coffee hour follows both services. Children are welcome at all services and childcare is available during the 10:00 a.m. service.
Worship in our garden is suspended while we install a new memorial garden and a fresh and level yard!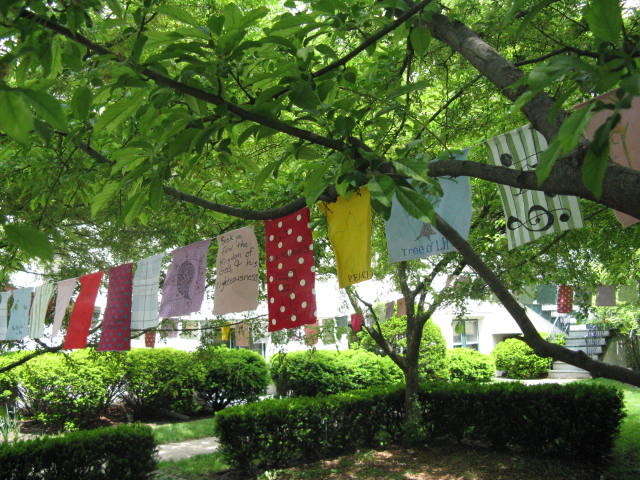 Featured post
St. John's is proud to present this beautiful book of art and reflections, taken from nine years of art created for Sunday worship by children and adults. This coffee table book makes a lovely gift.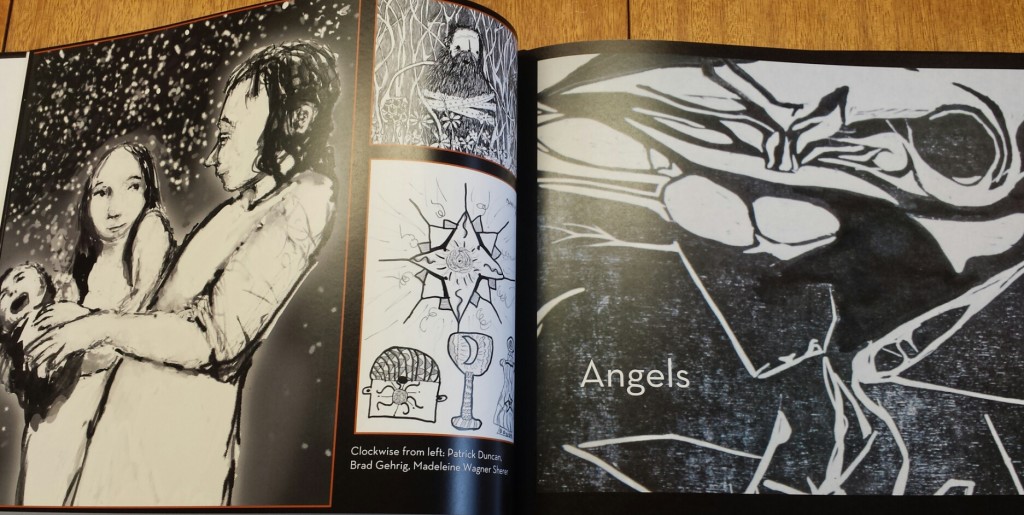 Each book is $30, or $25 each for 2 or more.
You can purchase a book at St. John's, or email info@stjohnschicago.com to have one sent to you (postage additional).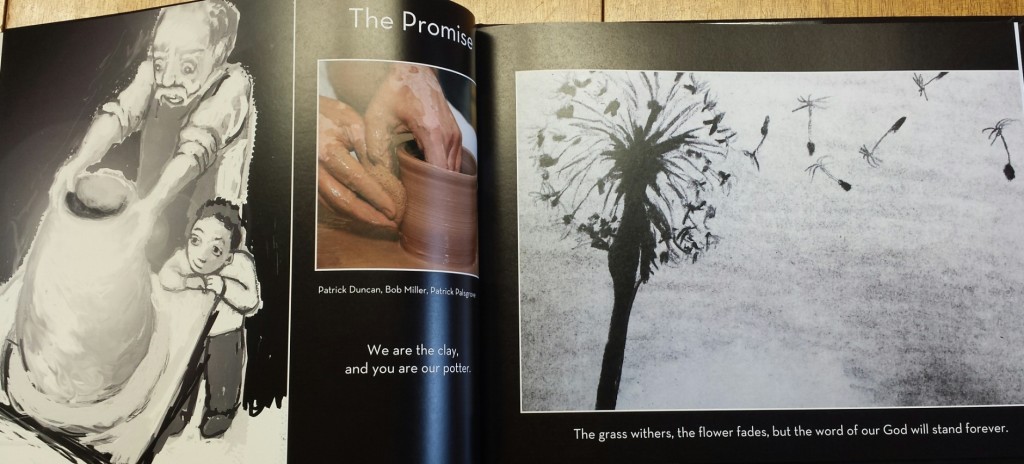 Featured post
A Capital Campaign for St. John's Episcopal Church
THREE YEARS – $375,000 – ACCESSIBILITY – HOSPITALITY – SUSTAINING OUR MISSION AND MINISTRY FOR GENERATIONS TO COME
We invite you to join us in extending the welcome and hospitality of St. John's to an ever-widening community.
Phase One Goal $176,000
Accessibility from street level to the Sanctuary and Parish Hall
Church Garden Restoration and New Memorial Garden
10% of all gifts to the Capital Campaign goes to our endowment for the use of future generations.
Phase Two Goal $143,000
Accessible Bathrooms
Kitchen Renovation
Office Reconfiguration
Phase Three Goal $56,000
Restoration of Stained-Glass Windows
To give to the Capital Campaign please use the DONATE button and use the memo line to designate your gift to the Capital Campaign.
Featured post
February 6, 2016
6:00 pm
to
8:00 pm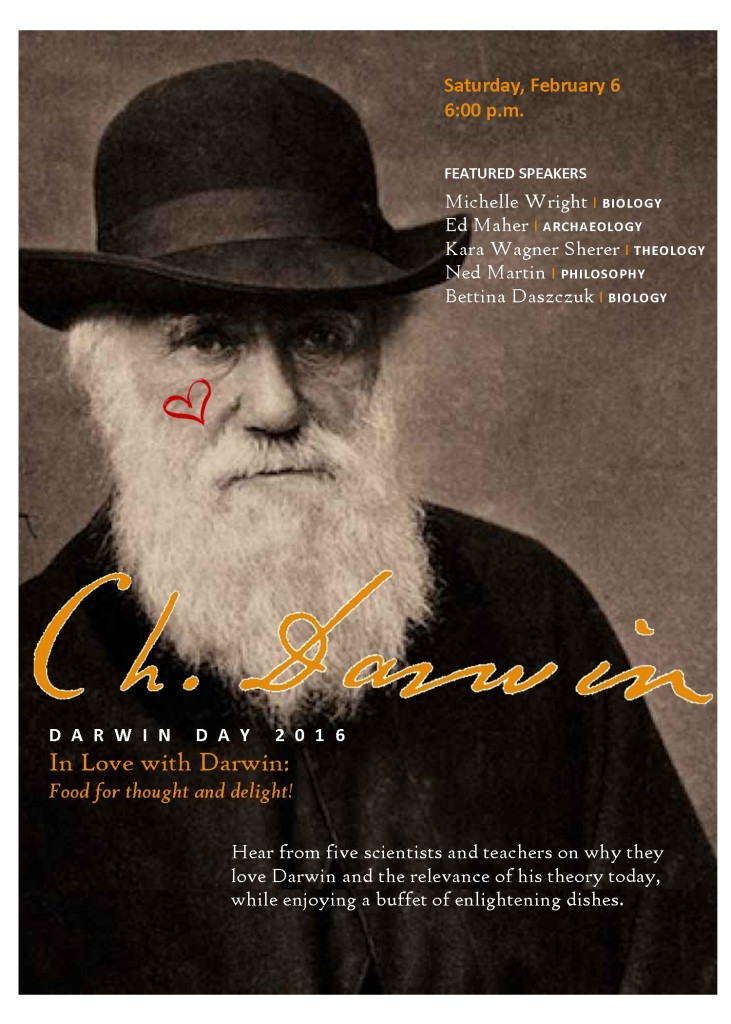 Back by popular demand! Don't miss this annual celebration of Darwin Day. This year St. John's Episcopal Church presents In Love with Darwin: Food for thought and delight! Hear from five scientists and teachers on why they love Darwin and the relevance of his theory today, while enjoying a buffet of enlightening dishes. Featured Speakers are: Michelle Wright, Biology, speaking on new discoveries in medical research; Ed Maher, Anthropology, on the debates around cultural evolution;  Kara Wagner Sherer, Theology, on whether science compliments or competes with religious thought; Ned Martin, Philosophy, on the debate over the evolution of altruism; Bettina Daszczuk, Biology, on the research into a "gay" gene. The discussion will be moderated and guests will have an opportunity to ask questions. On the menu: Primordial Soup, Salad with Galapagos Island dressing, Origin of the Spaghetti, Thymine & Thyme Toast, CRISP(R) Dessert and Base Pears. The dinner is free, cash bar and donations support programs at St. John's. The event is free and open to the public.
About The International Darwin Day
Darwin Day is an international celebration of science and humanity held on or around February 12, the day that Charles Darwin was born on in 1809. Specifically, it celebrates the discoveries and life of Charles Darwin — the man who first described biological evolution via natural selection with scientific rigor. More generally, Darwin Day expresses gratitude for the enormous benefits that scientific knowledge, acquired through human curiosity and ingenuity, has contributed to the advancement of humanity.
The International Darwin Day Foundation website www.darwinday.org provides resources and publicity for individuals and institutions across the world to celebrate science and humanity every year, on, or near, February 12, Darwin's birthday. In addition to information about the life and legacy of Charles Darwin, this website provides practical examples, advice and templates for organizing and publicizing Darwin Day events. It also provides a directory of events where you can find celebrations taking place near you or register your own event for others to find.
Recognizing science as an international language accessible to all individuals and societies, the International Darwin Day Foundation provides a new global holiday that transcends separate nationalities and cultures. Darwin Day can be celebrated in many different ways: civic ceremonies with official proclamations, educational symposia, birthday parties, art shows, book discussions, lobby days, games, protests, and dinner parties. Organizers may include: academic societies, science organizations, freethought groups, religious congregations, libraries, museums, galleries, teachers and students, families and friends. In Darwin Day, we are able to recognize the diversity among us, while celebrating our common humanity and the universal understanding we share.
Reflection on the killing at Emanuel AME Church

It was hard to wake up to the news of the church shooting in Charleston this morning. One more notch on the list of dangerous things to do when black. It is tempting to give in to the belief that good has departed from the world, that nothing we do changes anything, that sin has won. I was reminded today that we can't think or plan or research or analyze our way out of sin. We must act, commit acts of love, speak words of justice, live lives that change the world.
Today I also received the news that a new baby came into this world last night, June 17 at 9:11 p.m. We have been keeping his parents in our prayers in these last months of anticipation and hope, and now he is here! We rejoice with his parents in this gift. He is a beloved child of God, who will bring belovedness into our world. We know this because of the faith of his parents and the hope of our Christian community.
Sin and blessings are the realities of our world, and we believe in a God who promises that blessings will outweigh and outmaneuver sin and evil. We believe this even when we walk through the valleys of the shadow of death. In times of great joy we remember our call to act for, create, and claim those blessings, not just for ourselves, but for every human being, every living creature, and the earth itself. I am thankful for your witness to this promise and this work, and for baby Longbrake, another player on Team Love.
I offer two reflections for you, the first from scripture, the second from Bishop Lee, as he prepares for the General Convention and his witness as part of Bishops United Against Gun Violence.
May God Bless and keep you, now and always,
Kara +
Wisdom 1:13-15; 2:23-24
God did not make death,
And he does not delight in the death of the living.
For he created all things so that they might exist;
the generative forces of the world are wholesome,
and there is no destructive poison in them,
and the dominion of Hades is not on earth.
For righteousness is immortal.
God created us for incorruption,
and made us in the image of his own eternity,
but through the devil's envy death entered the world,
and those who belong to his company experience it.
Claiming Common Ground Against Gun Violence: An Invitation from Bishop Lee
This is a link to Bishop Lee's letter which was issued on Wednesday, just before the shooting.